How to Stay Stylish when you are Pregnant.
"I'm 5 months pregnant and Nicola has styled me in such a way that I've only had to buy two 'maternity' items – the rest will last me throughout my 'stylish' pregnancy and beyond. I can't tell you how good it feels to wear lovely clothes that make you look good when you are growing a big belly!" Marita from Liverpool
Women can find it tough to decide what to wear on a normal day but when your body is changing on a weekly basis, getting dressed and finding the right clothes can be a nightmare!! As if you don't have enough to worry about already?! Well here are my top style tips for mums-to-be…
Good Foundations are Essential…
During your pregnancy your bra size can increase from two to four sizes so it's essential that you get the right support for your bust to minimise the stretching of your skin and drooping of the bust post-pregnancy. A well fitted and good quality maternity bra will ensure you feel more comfortable as you grow, reduce stretch marks not to mention the fact that a well fitting bra (whether you are pregnant or not) makes you look slimmer and more streamlined anyway.
A good tip when you're trying on bras during pregnancy is to fasten the bra on the tightest hook first so that you can let it out as your ribcage expands. For high street fittings try your nearest Freya supplier  or read my Guide to Trying on Bras to ensure you understand how a good, well fitted bra should look and feel.
Layering…
It is a common assumption that layering makes you look bigger, but clever layering actually gives the illusion on a more structured and streamlined figure. When you're pregnant and feeling hot and flustered, as well as making you look more streamlined, layering light fabrics can prevent over-heating!
Look for long styles and boyfriend cardigans in light knits and little cotton jackets that look cool and chic when worn open such as this light cardigan is a capsule colour from Phase Eight.(pictured below)
Anything light, that flows and drapes over your bump, rather than clings and sticks, will make you feel more comfortable and look elegant and chic.
Keep it basic…
Because you are essentially buying clothes with only a relatively short period in mind, opt for good quality basics that you can mix and match easily with other items in your wardrobe. These may include leggings, skinny jeans, an open blazer or drape jacket – all of which can still be used post pregnancy (depending on how big your bump gets).
This drape pocket blazer from Warehouse (pictured below) is a fantastic capsule piece – to be worn open over any tee, top or blouse to dress up jeans and leggings, it's a great piece that you will continue to wear after the birth. Very chic!
Achieve a capsule maternity wardrobe by first working out what you will wear most and invest in those first. Actually put together in your mind what you will wear with each piece to ensure you aren't just throwing money away!
Look for basic colours such as black, white, navy, grey, brown and nude colours, which can be easily matched with a wide palette of other colours in your wardrobe to brighten up your look and achieve a wider variety of outfits.
Ruched Styles
Ruching looks amazing on women – pregnant or not – so a top that featured ruching and a beautiful neckline such as this Phase Eight top (pictured below) in a nude colour will look fantastic over your bump when worn with jeans and a boyfriend jacket or blazer, or with leggings and a cardigan. The colour is great as it can be worn right through from spring to winter and will still look fantastic once you have given birth.
Accessorise…
Accessorising is a really easy, cheap and hassle free way of achieving on-trend looks at minimal cost when you're pregnant. Go for statement necklaces, bangles, scarves, brooches, bags and shoes to add a pop of colour or achieve a fashion look by adding it to your basics.
For example, to work the animal print for aw12, head to the high street where you could get a beautiful leopard animal brooch from Hobbs or a quirky bird print scarf from Oasis (pictured below) as a nod to the animal magic trend to update your look.
The great thing about accessories is that they fit you no matter what size you are, so you can still use them post-pregnancy when you're a yummy mummy. Plus they add bags and bags of personality!
Flat Comfortable Shoes
Luckily flat shoes are still on trend this season – whether embellished pumps, brogues and loafers, hightop trainers, Converse or  slipper styles – this is great news for mums-to-be who want comfort and practical footwear during their pregnancy. I think these pumps from Dune are just the cutest with leggings or skinny jeans on a lady with a bump!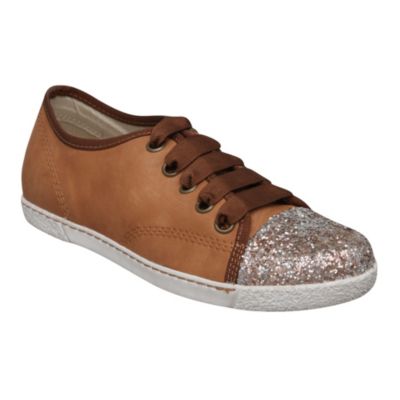 Where to shop…
A lot more high street stores stock maternity wear these days so staying stylish when you're pregnant is more affordable and accessible. H&M, Topshop, Asos, New Look, Gap all stock maternity ranges so pop in and try on some different styles.
However don't forget to try to try your usual highstreet stores – you may be surprised to find the things you liked to wear before you got pregnant, still look amazing!
Bear in mind these are general suggestions – if you would like more tailored style advice, enquire about one of our personal shopping experiences